It's been a long, hard road, the last 11 months…
If I haven't been posting many videos lately, it's because I've been working night and day trying to get the new space ready to host Louisiana's first pinball tournament and it's now done…. it looks like it was a success. Yay!
So many people participated to this event off, our great club members, people who kicked in money for the air conditioning and other stuff, all the tons of manual labor and every means of support you can imagine.  Chris Granner came all the way down from Chicago to donate game (that will be feature on future videos).
We decided to throw out all the stops for this event, free food, drinks, live music – and show people how we do it in New Orleans.  Here are the results:

THANKS TO EVERYONE WHO CAME OUT AND PARTICIPATED!   The event seems to have been a great success and everyone had fun, the tournament ran smoothly and we made a lot of new friends!!
2013 PinChurch Open – Tourney Results
Overall Champions:
1. Mike Perry
2. Sven Johnson
3. Kevin Centanni
Cashbox Champion:
Adrienne Black!   (destroyed everyone on Theater of Magic with 891,003,940 high score)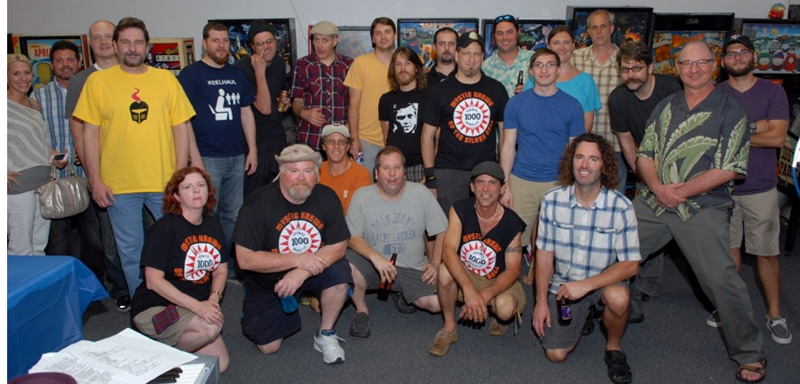 EM Division – Top 8 finishers:
Sven Johnson v Adrienne Black on Card Whiz (playing single-player games)

1. Sven Johnson
2. Adrienne Black
3. Mike P.
4. Bruce Betzer
5. Mike Van Etten
6. Kevin Keniston
7. Bob Roth
8. Jeff Ring
Classic Division – Top 8 finishers:
John "Spanky" Weems v Kevin Centanni on Genie: (note upper right flipper disabled intentionally due to coil problem)

1. John Weems
2. Kevin Centanni
3. Bobby Wilson
4. Bob Roth
5. Jeff Ring
6. Kelly Grigg
7. Mike P.
8. Kim Powell
Modern Division – Top 8 finishers:
Mike Perry v Kevin Keniston on Jackbot:

1. Mike P
2. Kevin Keniston
3. Eric Shaffer
4. Scott Hannan
5. Kevin Centanni
6. Stephen Thaxton
7. Kelly Grigg
8. Adrienne Black
Full Results:
PinChurch Open 2013 (May 24, 2013) – Louisiana's first sanctioned pinball tournament
Final Results
3 class tournaments and 1 overall championship series
Overall Championship – [Louisiana]
Rank, Name
1,Mike Perry
2,Sven Johnson
3,Kevin Centanni
4,Kevin Keniston
5,Adrienne Black
6,Kelly Grigg
7,John Weems
8,Jeff Ring
9,Bruce Betzer
10,Mike Van Etten
11,Kim Powell
12,Gerard Hudson
13,Stephen Thaxton
14,Todd Thompson
15,Greg Garner
16,Lisa Balga
17,Wes Ganucheau
18,Mike Cousins
19,Craig Brumfield
20,Bob Roth
21,Scott Hannan
22,Eric Shaffer
23,Bobby Wilson
24,Max Reese
EM (electro-mechanical)  Class
Rank, Player
1,Sven Johnson
2,Andrienne Black
3,Mike Perry
4,Bruce Betzer
5,Mike Van Etten
6,Kevin Keniston
7,Bob Roth
8,Jeff Ring
9,Kevin Centanni
10,Todd Thompson
11,Kelly Grigg
12,Lou Thevenot
13,Greg Garner
14,Max Reese
15,Gerard Hudson
16,Kim Powell
17,Stephen Thaxton
18,Craig Brumfield
19,John Weems
20,Wes Ganucheau
21,Lisa Balga
22,Mike Cousins
Classic (solid state) Class
Rank, Player
1,John Weems
2,Kevin Centanni
3,Bobby Wilson
4,Bob Roth
5,Jeff Ring
6,Kelly Grigg
7,Mike Perry
8,Kim Powell
9,Bruce Betzer
10,Sven Johnson
11,Gerard Hudson
12,Mike Van Etten
13,Mike Cousins
14,Lisa Balga
15,Scott Hannan
16,Greg Garner
17,Kevin Keniston
18,Adrienne Black
19,Stephen Thaxton
20,Wes Ganucheau
21,Craig Brumfield
22,Eric Shaffer
23,Todd Thompson
Modern (DMD) Class
Rank, Player
1,Mike Perry
2,Kevin Keniston
3,Eric Shaffer
4,Scott Hannan
5,Kevin Centanni
6,Stephen Thaxton
7,Kelly Grigg
8,Adrienne Black
9,Gerard Hudson
10,Kim Powell
11,Sven Johnson
12,Flynn Zaiger
13,Mike Van Etten
14,Todd Thompson
15,Jeff Ring
16,Wes Ganucheau
17,Bruce Betzer
18,Craig Brumfield
19,John Weems
20,Greg Garner
21,Lisa Balga
22,Mike Cousins