In this installment, I take a break from pinball repair and work on an interesting old arcade device that is mostly mechanical. In addition to this, it's a specific machine I remember from when I was in high school and worked at a local amusement park. This device was saved from being taken to the city dump and stored for 30 years until I found it. The challenge is, can it be made to function again? Let's see!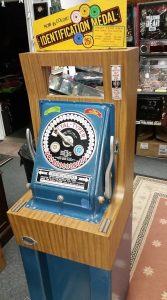 This is an interesting mechanical device that will take aluminum "tokens" and allow you to stamp your own messages on them. These were vary popular at carnivals and amusement parks and museums and arcades around the world. The tokens originally cost about 7 cents each, so for a quarter, the operator could make almost 3x his money. But now it's hard to find the original blanks for under $1 each. Still, this is a very unique piece. These machines were made from the 1930s until the 1980s.
In this video, I basically have to "reverse-engineer" how the machine works because there is so little documentation on it. I only found one other video online showing the game's basic operation, so I decided to document my progress with this, including the mistakes I made. This 8 part video series covers the trials and tribulations of getting the machine operational. When I picked it up, it had been sitting in storage for 30+ years. All the movements were seized. I wasn't even sure if the machine was complete.